Software – Spatial Analyzer
Software – Spatial Analyzer
SpatialAnalyzer is the premier portable metrology software solution for large-scale applications. SA is an instrument-independent, traceable 3D graphical software platform that makes it easy for users to integrate data from multiple instruments and perform complex tasks simply, ultimately improving productivity
Product description
SpatialAnalyzer is the premier portable metrology software solution for large-scale applications. SA is an instrument-independent, traceable 3D graphical software platform that makes it easy for users to integrate data from multiple instruments and perform complex tasks simply, ultimately improving productivity
SA is a highly flexible, instrument-independent, traceable 3D graphical software platform that makes it easy for users to:
Inspect parts
Build
Analyze data
Report
Reverse design
Interface with virtually any type of portable metrology instrument
Automate complex operations to improve measurement and inspection efficiencies.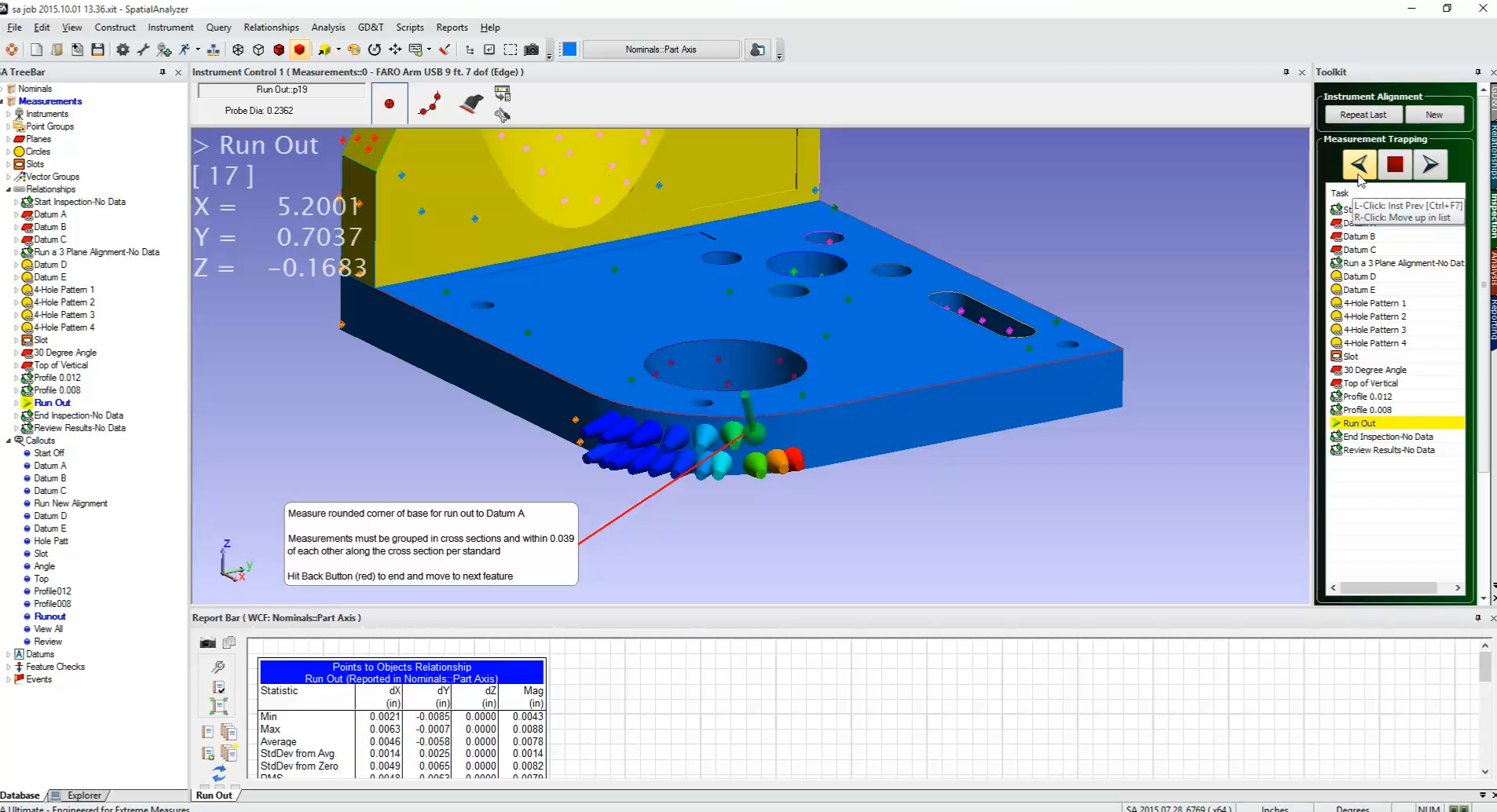 A helps customers achieve the following:
Address a broad spectrum of problems ranging from simple to complex
Save time, money, effort, and ultimately improve productivity
Establish ROI and accomplish goals that were previously impossible.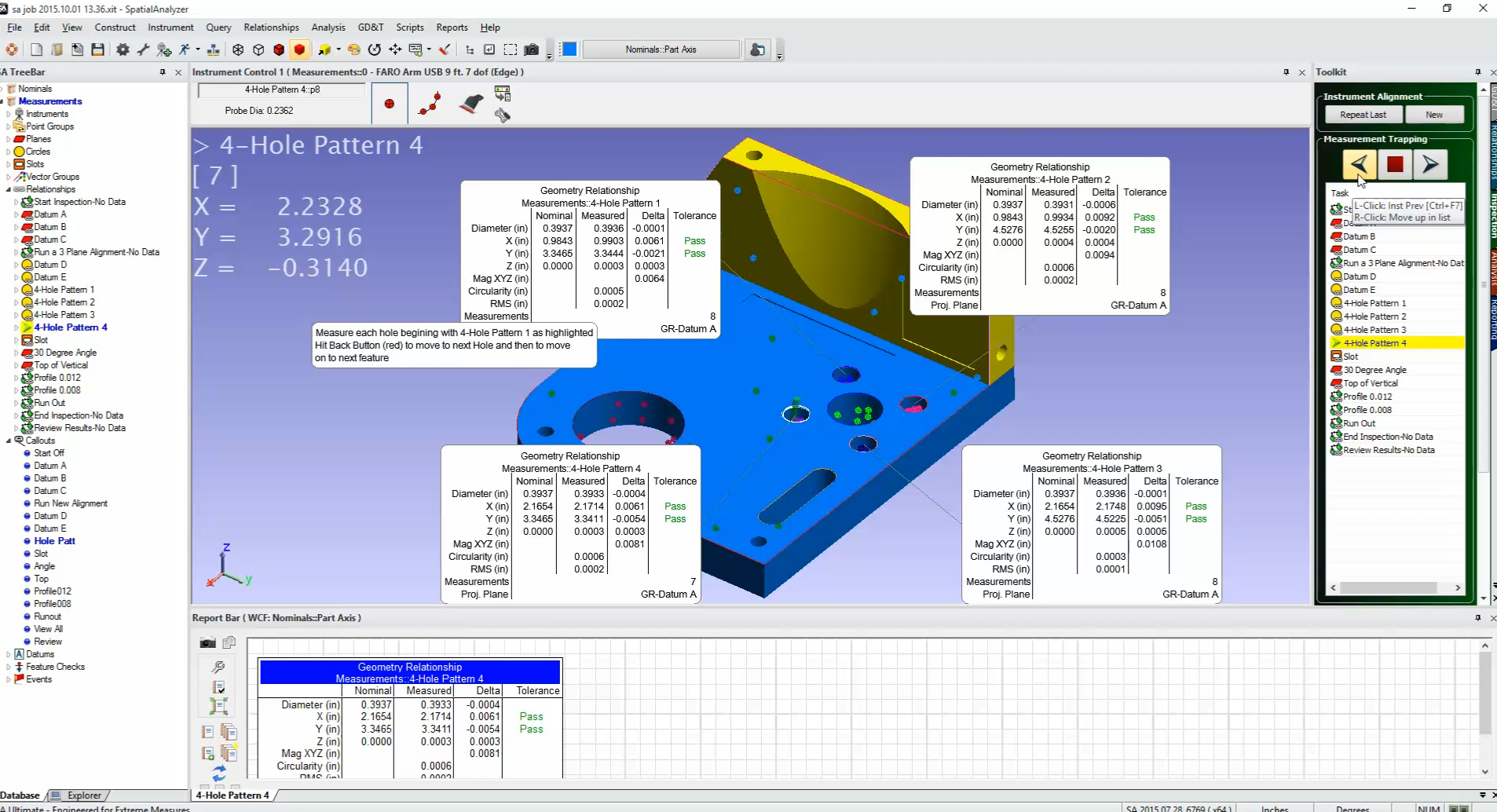 Instrument-independent, SA can simultaneously communicate with virtually any number and type of portable metrology instruments while performing complex tasks simply. SA can also integrate data from multiple instruments and help users find the best optimization to improve accuracy, save time, and reduce scrap. Interfacing with 120+ instruments (Laser Trackers, Local GPS, Portable CMM's, Theodolites, Total Stations, Laser Scanners, etc), SA provides simple, common interfaces for each instrument class.
Since its inception, SA has been involved in innovative, cutting-edge applications in almost every industry involving large-scale manufacturing. SA adopters include leading manufacturers around the globe in the aerospace, shipbuilding, energy, satellite, and automotive industries.
Ever improving, SA is under continuous development to further meet customer needs and goals. Interested in learning what's new with SA? Click here for the latest software releases.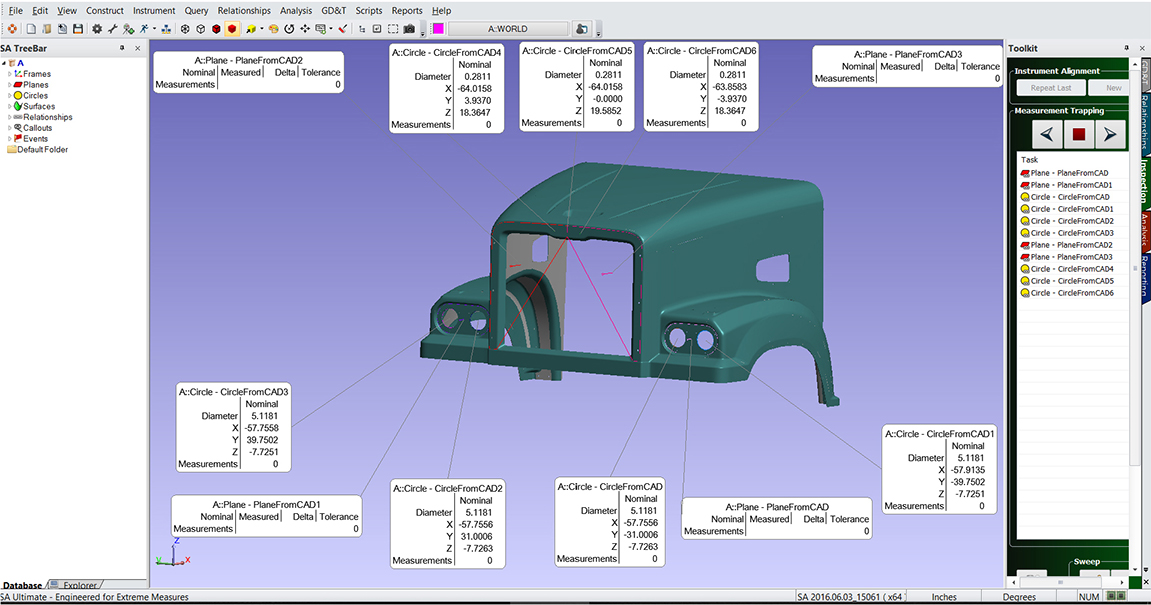 Full Support for Multiple Portable Metrology Instruments
Powerful, versatile, and user-friendly, SA can simultaneously communicate with virtually any number and type of portable metrology instruments. This includes laser trackers, arms, laser radars, scanners, projectors, theodolites, total stations, and photogrammetric devices–all featuring a common interface for each instrument class.
Alignment
Align to a known coordinate system using a variety of techniques, from 3-2-1 and best fits to interactive fitting such as Quick-Align and classic surface fits. Relationship Fitting allows for simultaneous feature-based fitting to organic surfaces in addition to traditional iterative fitting.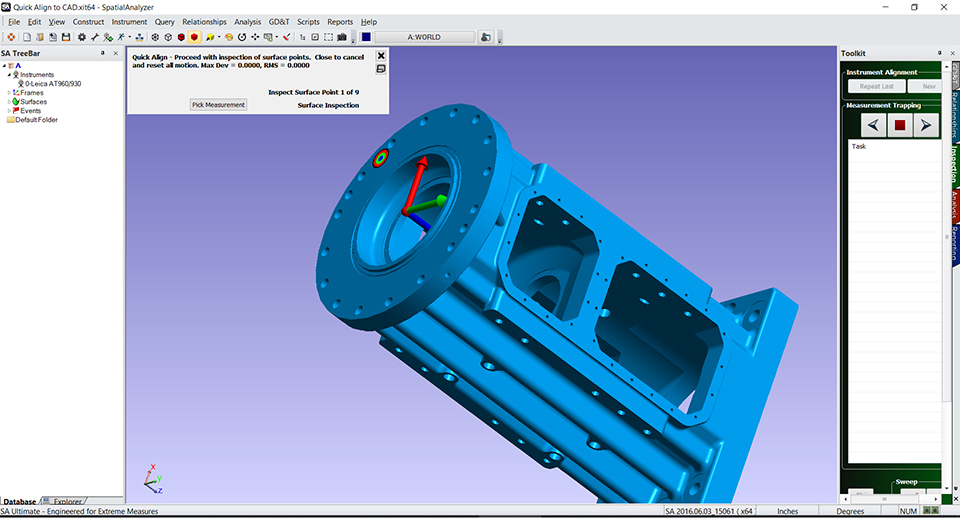 Real-Time Build & Virtual Assembly
Digitally assemble components with relationships and constraints to see how parts will fit in final assembly. An entire suite of tools are available for real-time building.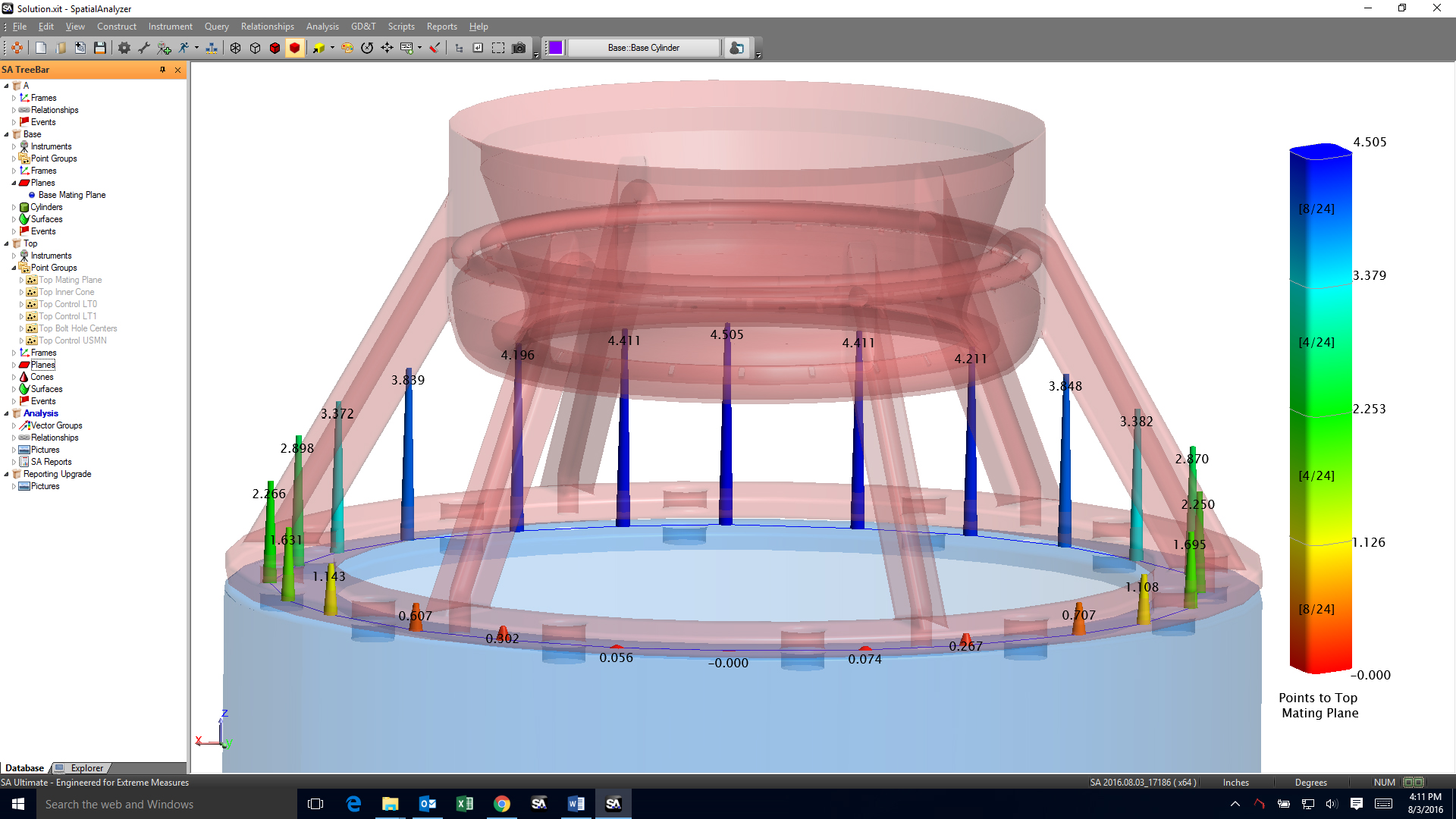 Traceability
Maintain a clear history of all data from start to finish with 100% traceability from measurement to reporting.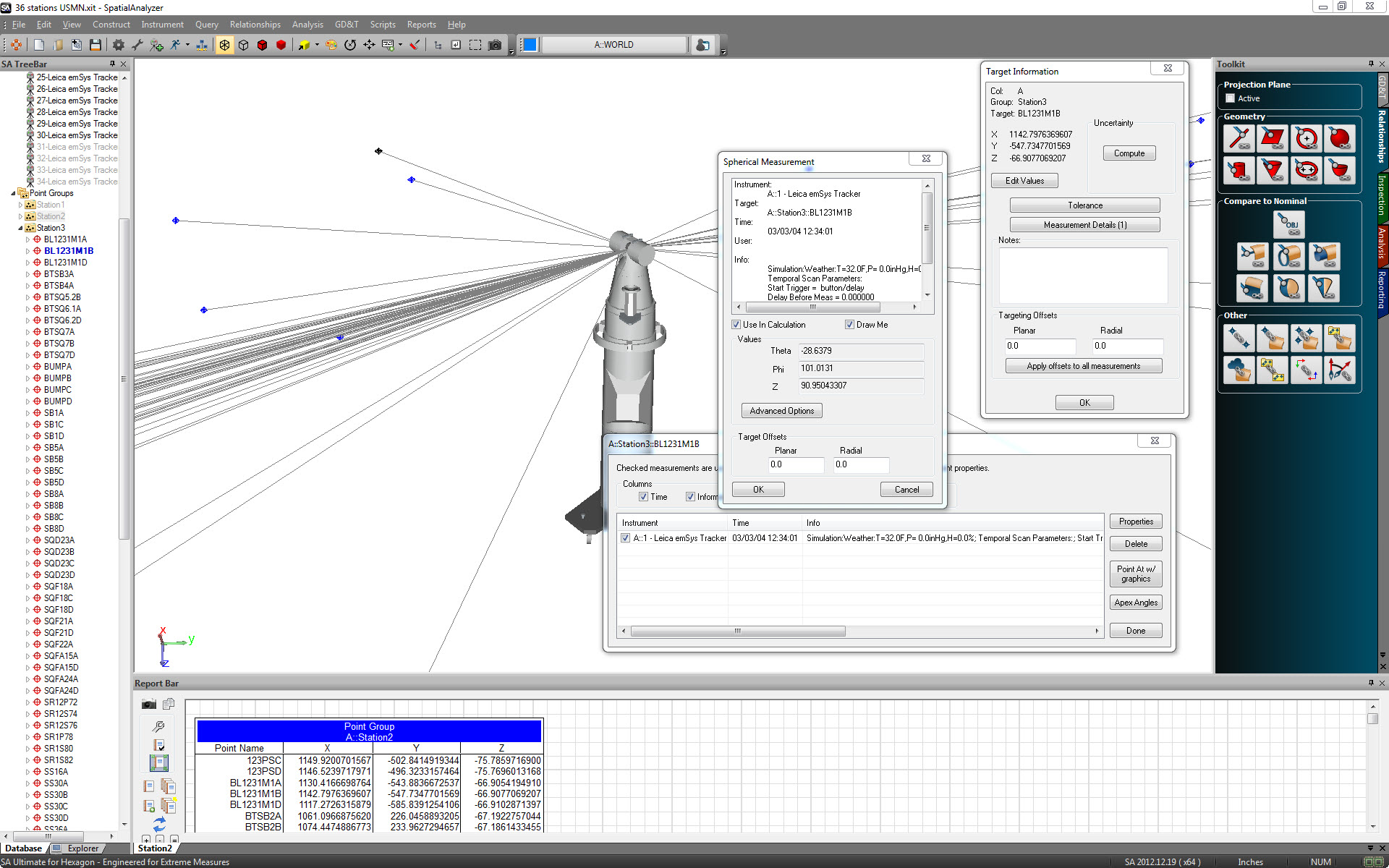 GD&T Inspection
Address ASME standard GD&T requirements with support for native CAD annotations.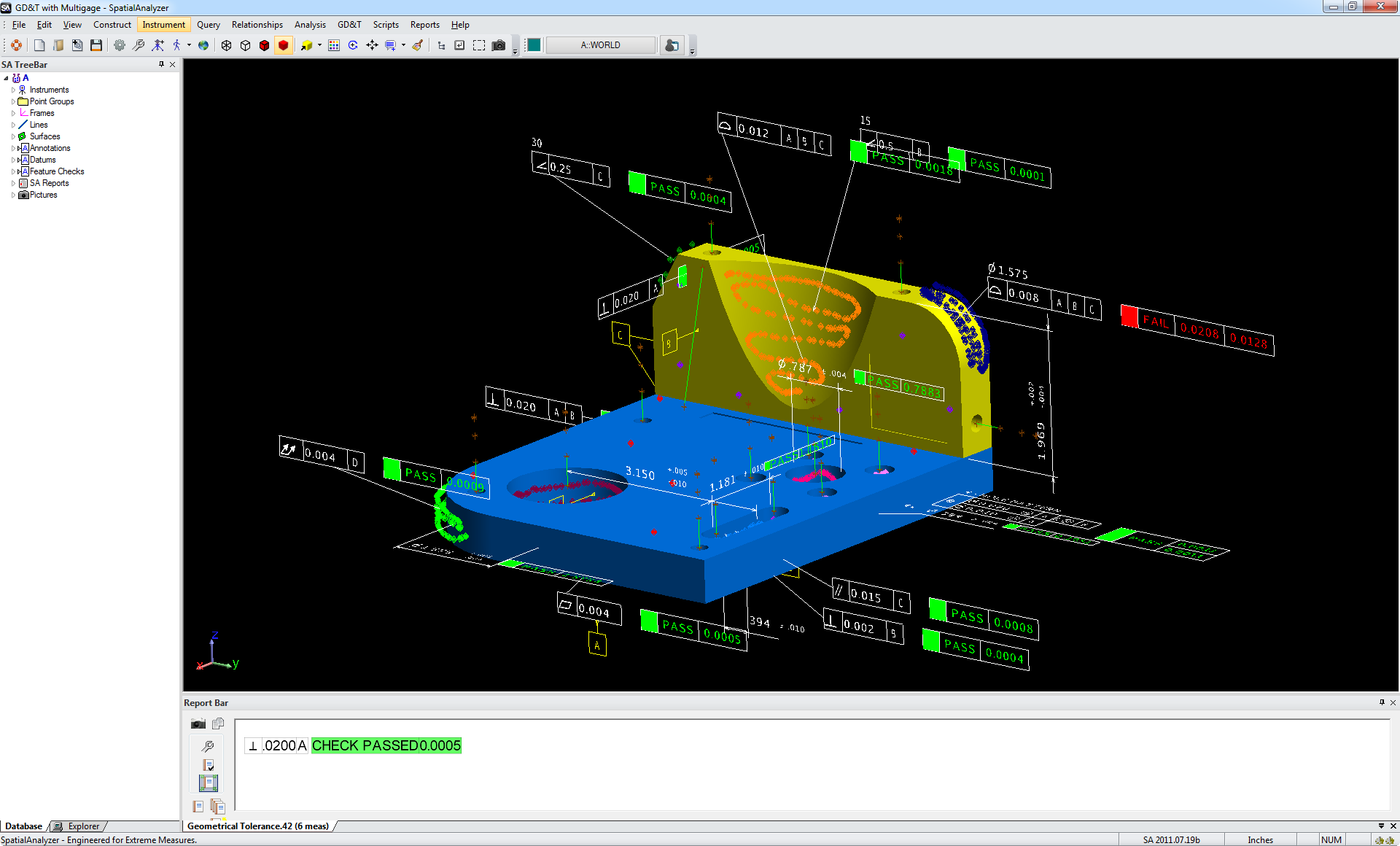 Reporting Tools
Quickly and easily generate custom reports with output to a wide variety of formats.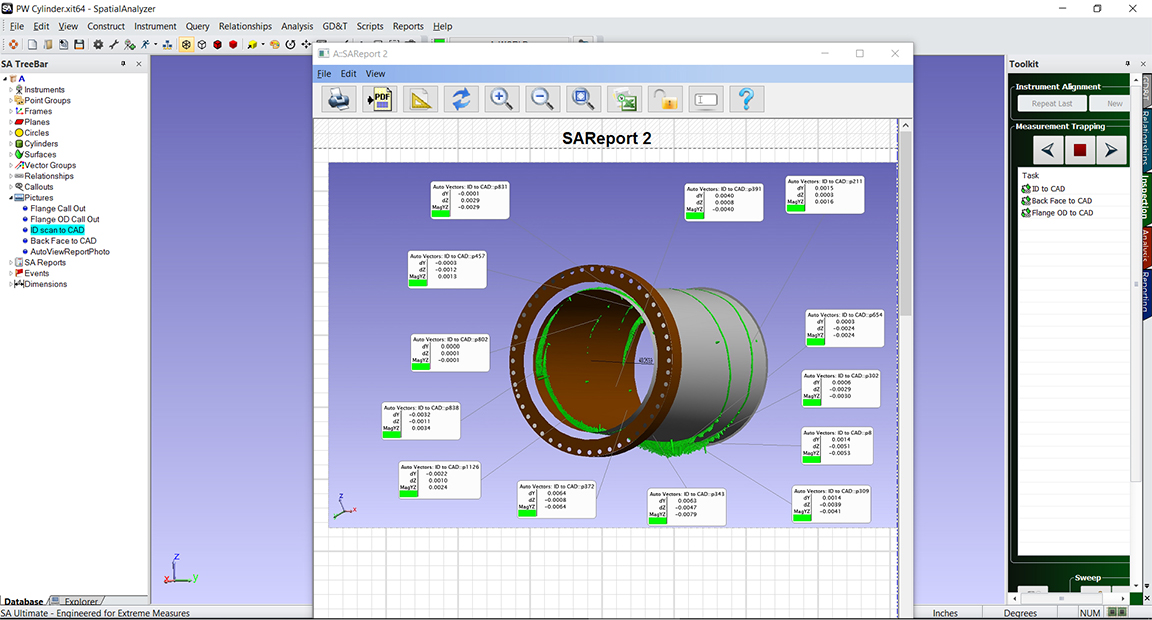 Point Clouds
Combine laser scanner interfaces with advanced tools for feature fitting and automatic sphere extraction. Automatically extract features from scan data for easy comparison to CAD or analysis with GD&T.
SA Remote
View real-time 3-DOF and 6-DOF spatial data and control laser trackers remotely from an iPhone®, iPod® touch, or iPad®. Download the official SA Remote app for free at the Apple App store.
Uncertainty Calculation & USMN
Calculate measurement uncertainty and use USMN to achieve the ideal instrument network.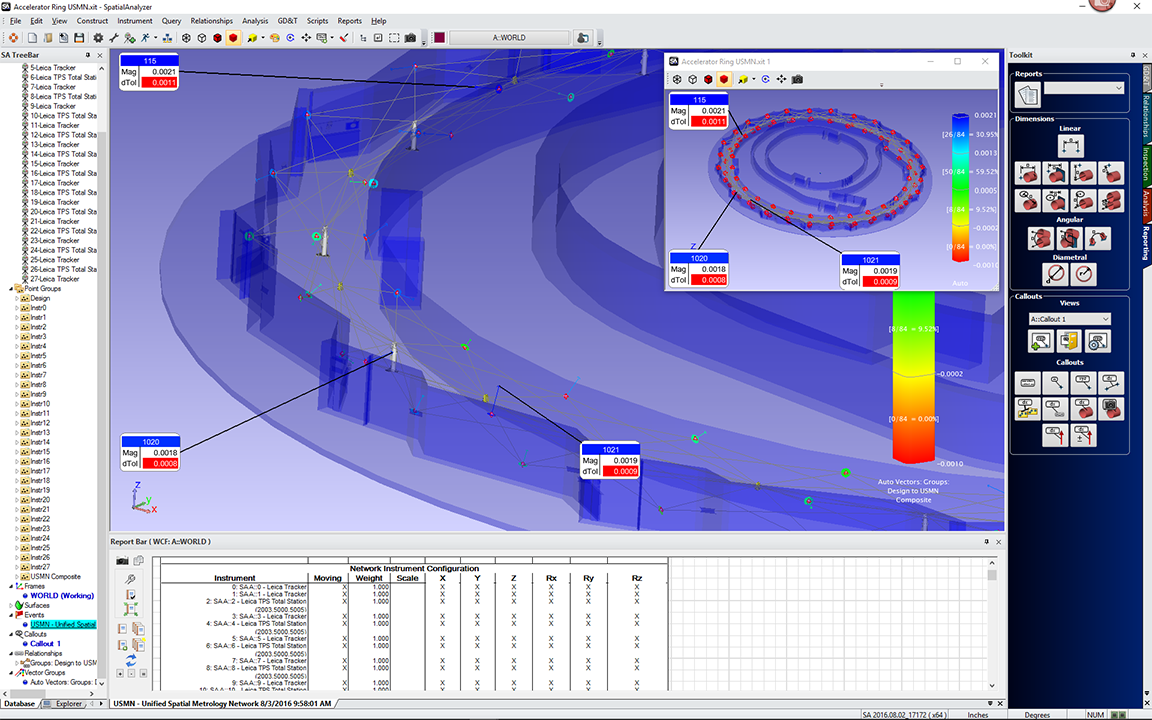 Geometry Inspection
Define design-based inspection routines from a CAD model or primitive geometry.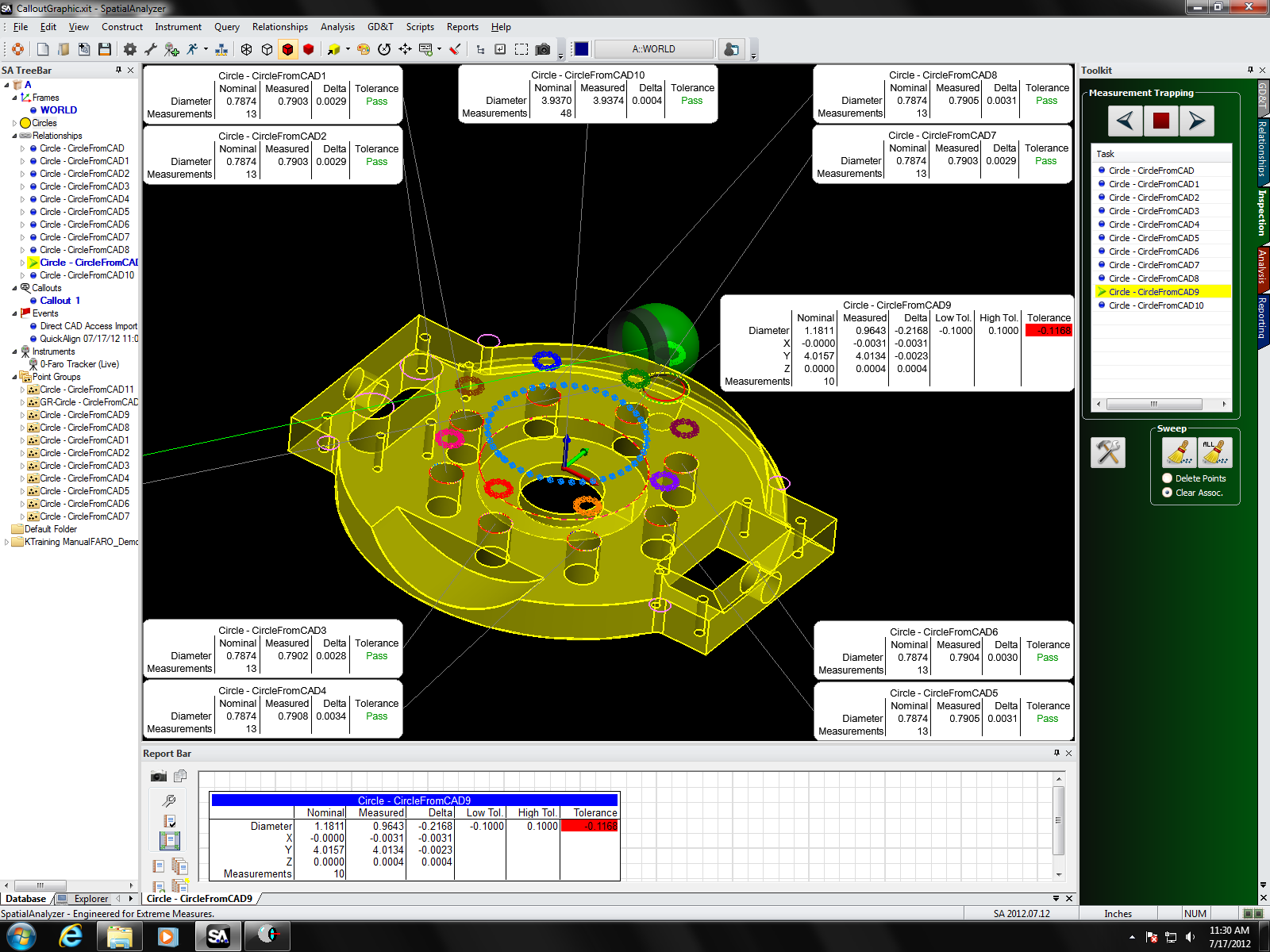 Model-based Definition
Take advantage of CAD models to capture deviations over time or watch them in real-time.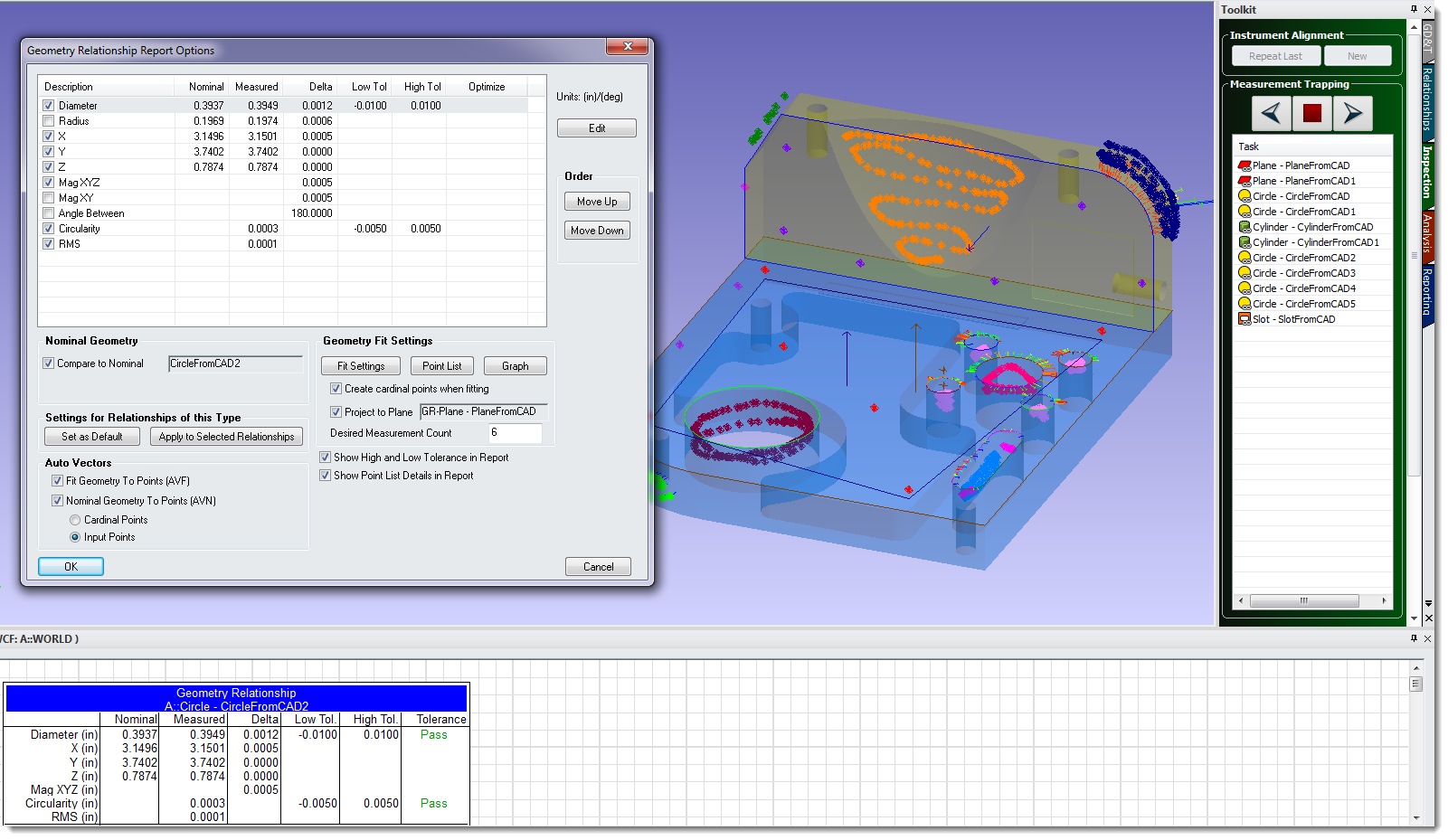 Automation
Use Measurement Plans and an SDK to enable powerful scripting and automation capabilities.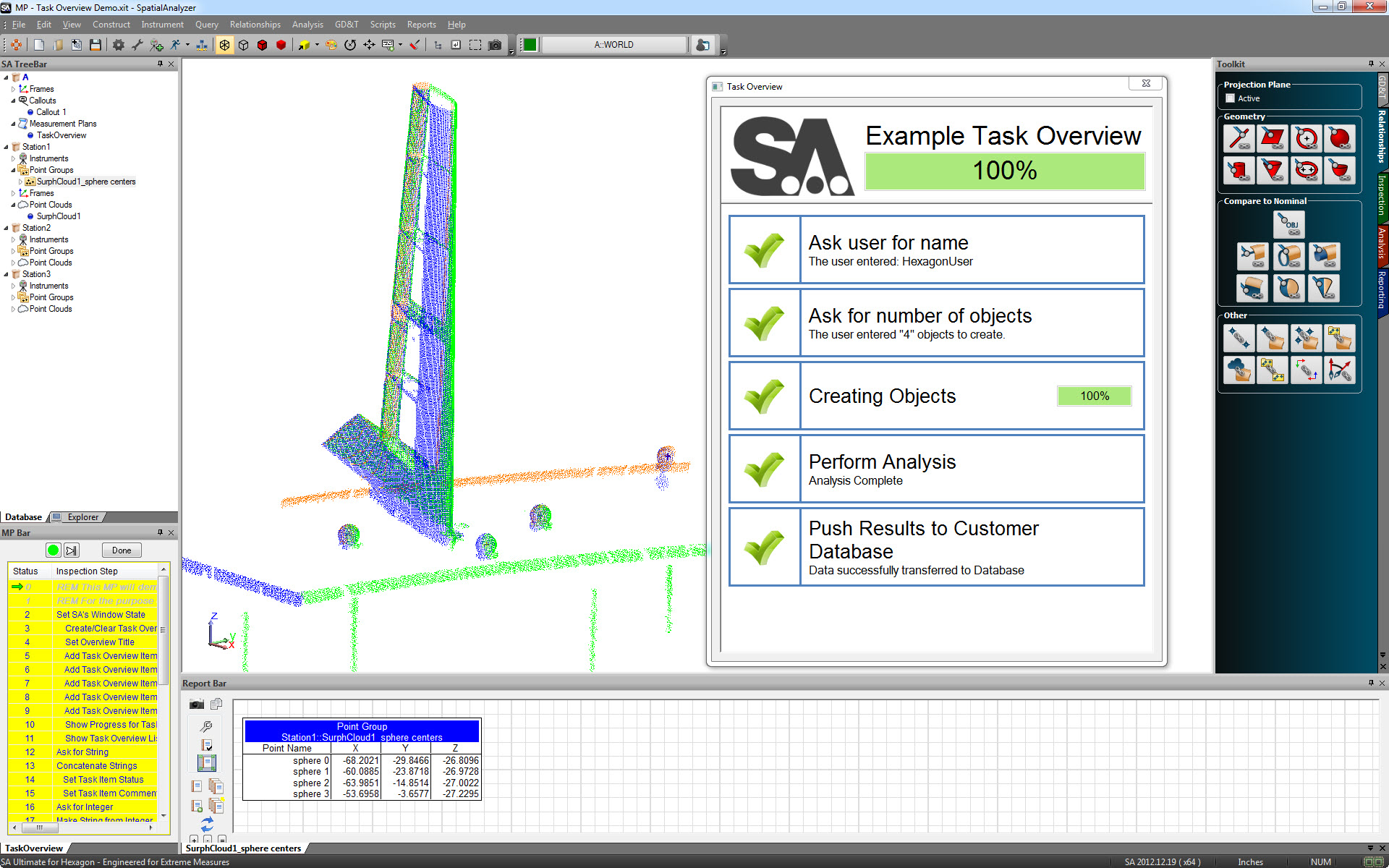 Certifications
SpatialAnalyzer has received NIST (National Institute of Standards and Technology) Certification. For more information on NIST certification,
click here
.
SpatialAnalyzer has received PTB Certification. This certification ensures that the math algorithms used adhere to known standards.
Support Cad Formats
IGES, STEP, STL, CATIA®, SolidWorks®, NX®, ProEngineer®, Creo Parametric Inventor, and more.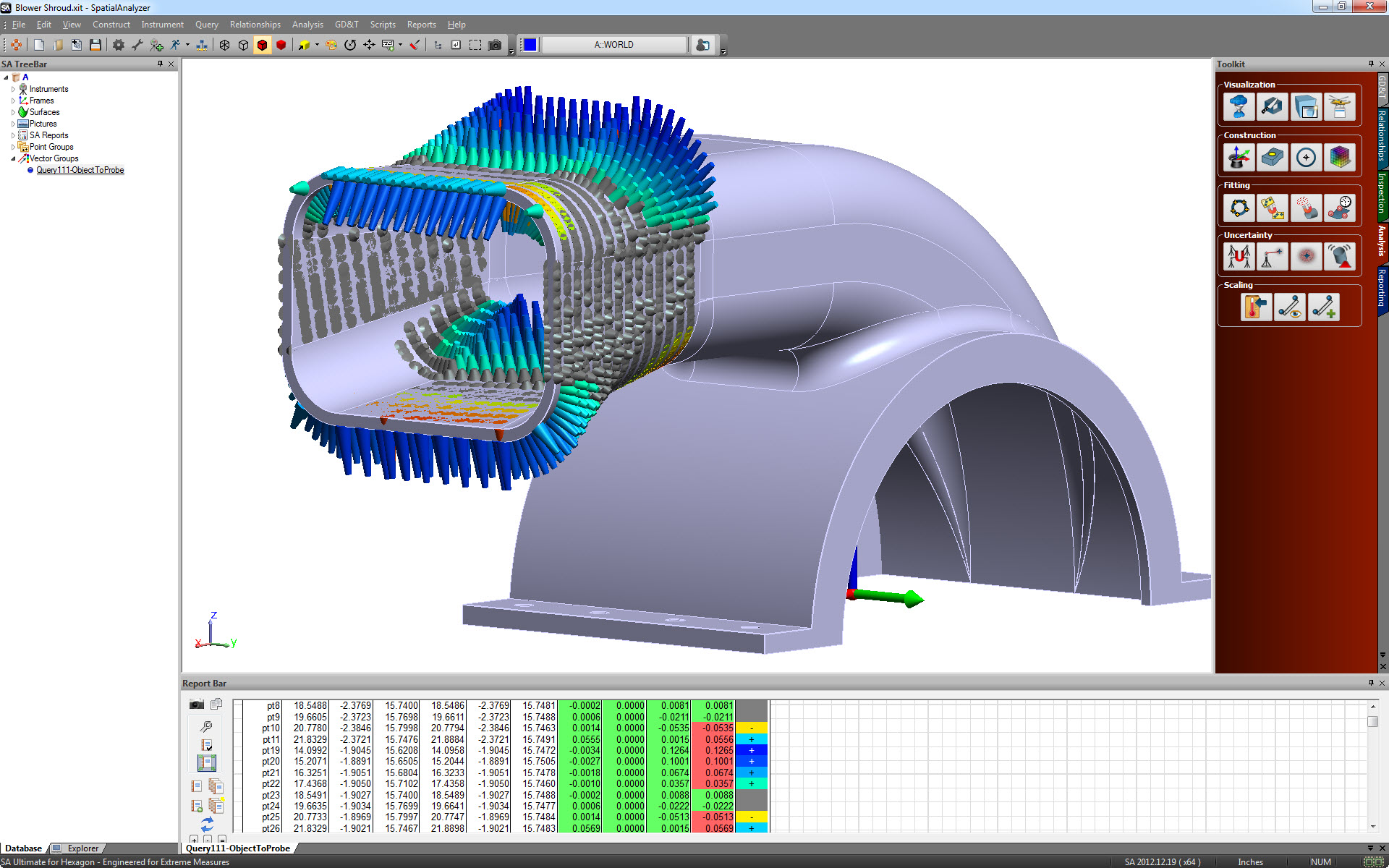 SA Packages
The types of portable metrology instruments that we support are as follows:
Trackers
Arms
Laser radars
Theodolites
Scanners
Photogrammetric devices
Total stations
Projectors
Below is a list of instruments that we support organized alphabetically by manufacturer. If you have questions regarding supported instruments, contact the NRK support team at
support@kinematics.com
.
Portable CMM Arms
Axxis 6 dof and 7 dof arms
Laser Trackers
API Omnitrac 2 API Tracker II API Tracker III API Radian
Auxiliary Devices
API Laser Rail
Portable CMM Arms
USB Arms - Edge, Prime, and Fusion Faro ScanArm (V3, ES, HD) Gold and Silver Series Arms USB Arms - Platinum, Titanium, Quantum, and Edge
Laser Trackers
Si, S, Xi, X and Ion Trackers SMX Tracker 4000, 4500 Vantage
Scanners
Photon/LS/Focus 3D Scanners
Portable CMM Arms
All Romer Absolute, Multi-Gage 6 and 7 dof arms All Cimcore 6 and 7 dof arms Perceptron laser line scanner for 7 dof
Laser Trackers
Leica Absolute Tracker 930/960 Leica Emscon Absolute AT 900 series trackers Leica Emscon AT 401, 402 Leica Emscon LT 500 - LT800 series trackers Leica TP-Link Trackers
Total Stations
Leica Flexline Plus Series Total Stations Leica Nova MS50 and MS60 Leica Nova Series MultiStations Leica TC2000, TC2002 Leica TDA5005 Leica TDRA 6000 series Leica TPS Total Station (2003, 5000,5005) Leica T1200 series Leica Viva Series Total Stations
Theodolites
Leica TM6100A Theodolites Leica TPS (1800, 5100) Theodolites Leica/Wild (T2000, T2002, T3000)Theodolites
Scanners
Leica Geosystems ScanStation P20
Scanner
Metris Laser Radar CLR100, MV200, MV300
GPS Networks
Metris iGPS Surveyor and Surveyor 2
Photogrammetry
Metris K-Series K-Scan and SpaceProbe
Laser Projector
Photogrammetry
AICON ProCam 3D Probe AICON MoveInspect
LaserGuide Projection System
Photogrammety
Creaform Handy Probe
Scanners
Creaform HandyScan 3D
Photogrammetry
M-System V-Stars Single Camera V-Stars Bundle Network Uncertainty Simulation Interface
Laser Projector
CAD-Pro Laser Projector
Photogrammetry
Metronor Portable Measurement System
Scanners
VIVID 700 and 900 Scanners
Photogrammetry
NDI OptoTrak
Scanners
Surphaser 3D Laser Scanners
Theodolites
Kern E Series
Total Stations
DS (DX), ES (CX), OS (FX), and PS (SX) Total Stations Net-1, Net-2, SETX, Net05X, Net05AX
Photogrammetry
Vicon Tracker
Theodolities
Zeis ETh 2
Laser scanner
Other notable instruments:
Boeing Laser Tracker Boeing TaLLS Scanner Sandia National Labs Arm Romer Sigma Arm 2022 Metron Scanner Nivel 20 Two Axis Level Thommen HM30 Weather Station Davis Perception II Weather Station Scan Alert Temperature Probe On-Track Laser Line System Ultrasonic Thickness Gauge Digital Levels for USMN Networks
Minimum Requirements
Microsoft Windows 7 or later
4 GB ram
500 MB of free disk space
1024 x 768 screen resolution
Recommendations for Optimal Performance
The system outlined below will provide a good base platform for using the most advanced features of SA. With this equipment measurement data may be gathered with high data rates (1 kHz sampling rates) into complex models containing numerous CAD surfaces.
3 Ghz Dual Core Processor
Windows 7™ (64-bit)
8 GB of RAM (64 bit operating system)
1280x1024 or higher screen resolution
Hardware-accelerated graphics card supporting OpenGL®
1 GB of free disk space
Examples of machines with these configurations are available at
www.dell.com
:
Low end: Dell Latitude Laptop
High end: Dell Precision (Laptop or Workstation)
SA Broshure